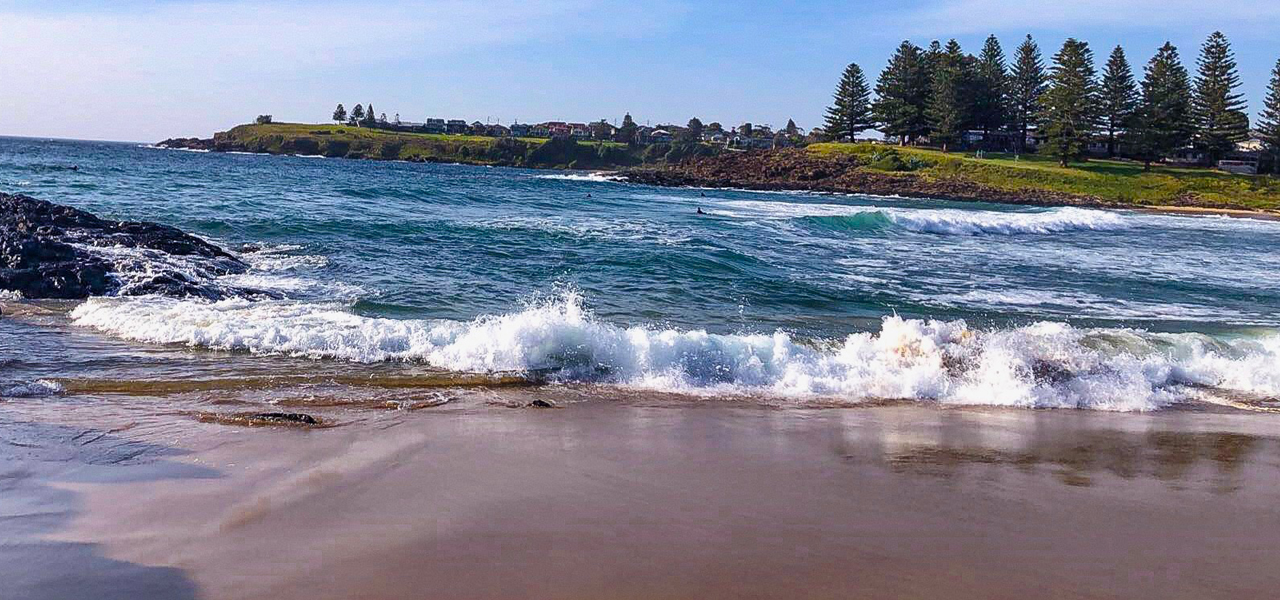 Local Guide to Kiama
Picture-perfect and carefree, the South Coast of NSW is a hotspot for getaways; rolling green hills, national parks, sun-kissed beaches, sprawling acreages and seaside villages. Taking full advantage of it all is Kiama – loved for its swell, rock pools, and spacious foreshore parks.
Only 90 minutes from Sydney, Kiama has an unbeatable lifestyle of ease and leisure. From a jam-packed calendar of festivals and events to the on-trend cafes and restaurants that champion fresh local produce. When it comes to things to do in Kiama, there is no holding back; fishing charters, whale watching, boating, coastal walks, surfing, swimming, rock pools and incredible outlooks, there is plenty of fun to be had in and around Kiama.
Eat
Effortlessly stylish, Diggies is an all-day venue that shines a spotlight on local produce. Whether you're coming for brunch or a cheeky beverage (their cocktails are delish), the view is guaranteed to impress.
Hungry Monkey has a well-earned reputation for their breakfast. But, don't be surprised if you find yourself back here when lunchtime hits because their burgers have become a real, local favourite.
A wholefoods eatery with an easy-breezy vibe, Wild Patch's all-day menu goes down a real treat with a healthy burger selection and a winning kids menu. They close at 2 pm, so drop by early.
Overlooking Surf Beach, Silica is a modern Australian restaurant which features ocean-fresh seafood. Order takeaway for a beachside picnic or treat yourself to a set two-, five-, or seven-course dinner.
Sitting across from the boat harbour, Penny Whistler is serving modern Australian dishes all-day and into the evening. Plus, they have an extensive wine offering. Oh, and did we mention the view?
Across from Surf Beach, Olive & Vine is a dinner venue (open for Sunday lunch only) with a delicious modern Australian menu with a hint of Italian. Although licensed, you can byo your favourite drop.
Shop
On the third Sunday of every month, Kiama Seaside Markets pops up along the harbour foreshore with over 100 stalls showcasing locally designed clothes, handcrafts, vintage, up-cycled products and so much more.
Kiama Farmers' Market
Every Wednesday, the bell is rung at exactly 2 pm (or 3 pm during daylight savings) to announce the beginning of market trading. Shop for fruit and veggies, seafood, meat, dairy, sourdough and street food.
A lifestyle store filled with one-off pieces that have a story to tell. From fashion, homewares and furniture, they are natural, textured, and embody the coastal free-spirited lifestyle.
Indigo Rose has an evolving collection of textured furnishings and homewares. Inspired by local and international artisans, there is a full range, from coastal hues to earthy tones.
Play
Kiama Lighthouse & Blowhole
Experience the big 'Whoosh' and the spray of the ocean at Kiama Lighthouse & Blowhole. The blowhole itself is located next to the Lighthouse, the opening is 2.5 metres wide and can reach heights of up to 30-metres.
Kiama Coastal Walk
From Minnamurra River to Gerringong, the Kiama Coast Walk is one of the most scenic walks you will ever do. Passing beaches, foreshore parks, and rock formations. And the views are incredible, every which way you turn.
Bombo Headlands
Bombo's unusual basalt walls and columns are an attraction within themselves. The headlands also have a great surfing beach, and walking trails with views of Cathedral Rocks, Minnamurra Headland and Kiama.
Dolphin & Whale Watching
Kiama is a hotspot for dolphin and whale watching. Head to Minnamurra Whale Watching Platform, just north of Kiama Downs between May and November for the best seats in the house.
Beaches & Rockpools
A string of surf and swimming beaches run from Gerringong to Kiama (and beyond), and the rockpools are a real crowd-pleaser. Blowhole Point Rock Pool and the Continental Rock Pool are our picks.
Minnamurra
An outdoor lover's dream, Minnamurra has it all. A beach and river for stand-up paddleboarding, a headland for incredible views, a whale watching platform, and further inland, a subtropical rainforest.